Bearcat Radio Network
Sept. 29, 2018Game | Football
Northwest 41, Emporia State 0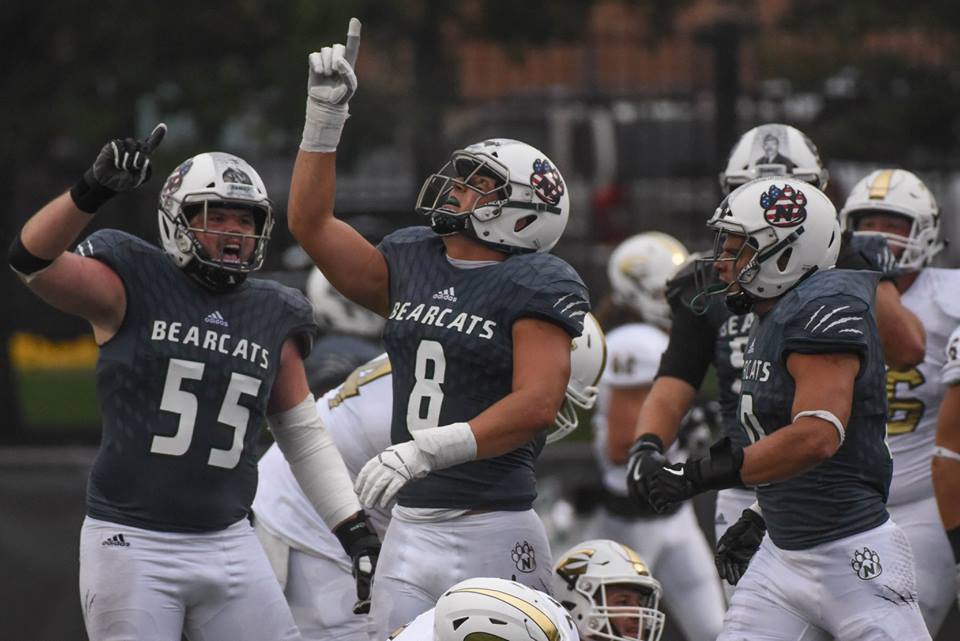 (Photo courtesy Northwest Athletics)
Northwest football got back on the winning track Saturday afternoon despite a lightning delay of nearly two hours at Bearcat Stadium.
The Bearcats (4-1) topped Emporia State (2-3) 41-0 in a game that was scheduled to kickoff at 1:30pm, but didn't get underway until 3:20pm.
Northwest was led by a balanced offensive attack that featured 183 rush yards and 267 pass yards. The Bearcat defense limited the Hornets to just 194 total yards, including only 142 pass yards from Braxton Marstall. The ESU quarterback threw for 404 yards one week prior.
The 'Cats opened the scoring with a short pass to Shawn Bane for a three-yard touchdown reception on their first drive of the game.
Early in the second quarter they punched in an unconventional score on fourth down inside the five yardline. The ball was fumbled on the center-quarterback exchange, and Josh Caldwell scooped it up and pushed across the goalline for the second touchdown of the game.
Northwest's next two scores came on big plays from quarterback Braden Wright's arm.
First, an 80-yard strike to Jaime Taylor put the Bearcats up by three touchdowns. Then, later in the first half, Northwest ran the flea flicker with Wright delivering a pass to a wide open Alec Tatum. Tatum found the end zone for a 72-yard touchdown.
The 'Cats led 27-0 at halftime.
Wright scampered into the end zone for a four-yard score in the third quarter, and Brody McMahon plunged into the end zone from one-yard out in the fourth to cap the scoring.
Tatum had a career day with 105 receiving yards and a touchdown on three receptions.
Wright threw for 255 yards and three touchdowns, and ran for 52 yards and a touchdown.
Northwest is on the road next Saturday against Pittsburg State. Bearcat Gameday presented by Impact Interiors on KXCV 90.5/KRNW 88.9 will begin at 1pm, followed by the opening kickoff at 2pm.