Bearcat Radio Network
Nov. 24, 2018Game | Football
Northwest 21, Ferris State 27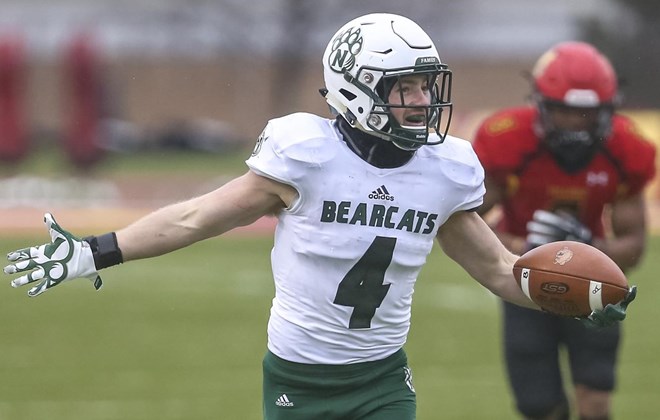 (Photo courtesy of Northwest Athletics)
The Northwest Missouri State Bearcat football team's season came to a close Saturday afternoon with a 27 to 21 loss to Ferris State in Big Rapids, Michigan. The team put up a valiant effort against No. 2-ranked Ferris State and the game came down to a final play as the Bulldogs hung on for the win in the second round of the NCAA Division II playoffs.
After following behind 20-0 in the first half, the Bearcats scored a touchdown late in the second quarter on a 19 yard touchdown pass from Braden Wright to Shawn Bane, Junior.  The second half saw Jack Richards return an interception 32 yards for a touchdown.  Alec Tatum caught a two yard pass from Wright for a touchdown bringing the Bearcats to within six with :14 seconds left. Marques Andrews recovered an on-side kick from Parker Sampson giving the Bearcats one last chance before Wright was sacked as time ran out. 
One of the big keys of the game was a 71 yard halfback pass from Ferris State on the first play from scrimmage setting up the Bulldogs first score. Linebackers coach Chad Bostwick says it took a while before Northwest recovered from that play.  
The Bearcats finish the season with a 10-3 record.