Bearcat Radio Network
Jan. 2, 2021Game | Basketball
Northwest 84, Pitt State 69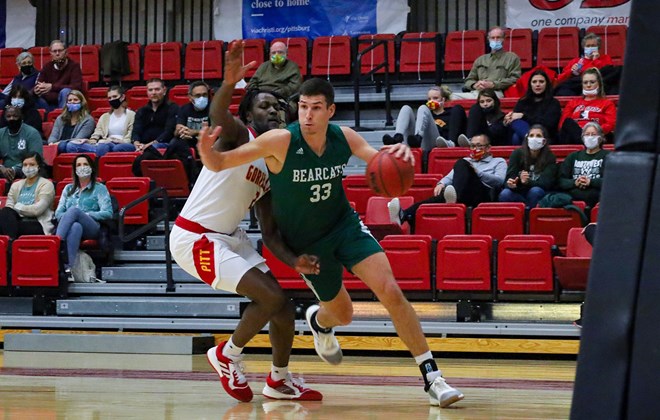 (Photo courtesy Ryan Milke, Northwest Athletics)
Northwest Missouri State men's basketball earned a 10th consecutive road win dating back to last season in Saturday's 84-69 triumph over Pittsburg State.
The Bearcats (5-0) improved to 3-0 away from home in the 2020-21 campaign thanks to big efforts from the big three – Trevor Hudgins, Diego Bernard and Ryan Hawkins.
Hawkins scored 18 of his 24 points in the first half as Northwest took a 44-32 lead into the break.
The senior from Atlantic, IA had to sit for a portion of the second half after getting into foul trouble, but Hudgins picked it up from there.
The Manhattan, KS product scored 14 of his 21 in the second half, starting when Hawkins went to the bench.
The Bearcat lead ballooned to 19 points midway through the second half.
Bernard was smooth throughout the game drawing praise from head coach Ben McCollum.
"Diego, just from a winning-play perspective, was absolutely out of hand. It just was winning play after winning play – some big blocked shots, some big rebounds, some big o-boards. I thought he was fantastic."
Bernard capped the game with 14 points, nine assists, seven rebounds, three blocked shots, and only one turnover in 38 minutes of work.
Northwest now heads into a matchup of unbeatens Thursday at home against Washburn (7-0). Game time between the Bearcats and Ichabods is set for 7:30pm. Pregame begins at 7pm.