Local Sports
Jan. 16, 2021Game | Basketball
Northwest 73, Nebraska Kearney 63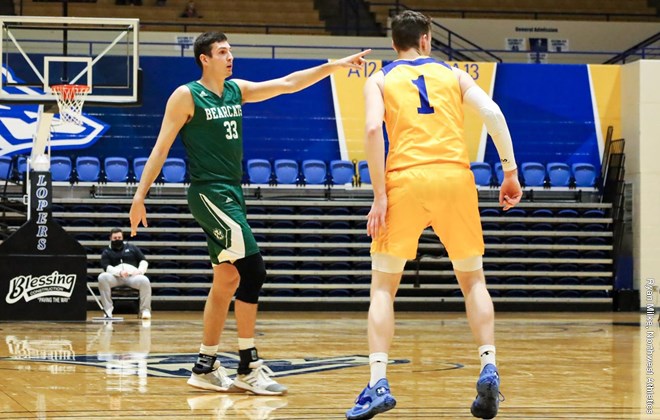 (Photo courtesy Ryan Milke, Northwest Athletics)
Northwest increased it's road win streak to 12 games Saturday afternoon with a 73-63 win over Nebraska Kearney.
Luke Waters hit a three-pointer 20 seconds into the basketball game to put the Bearcats (8-1) on top, and the lead was never lost as Northwest held the lead wire-to-wire.
The 'Cats shot 56-percent from the field, but UNK hung around throughout the contest, even cutting the deficit to just four points with three minutes remaining.
Trevor Hudgins kept the Lopers at bay going 6-6 from the free throw line in the final 2:35.
Ryan Hawkins led Northwest with 25 points and 5 rebounds. Waters added 20.
Hudgins finished the game with 12 points and 5 assists.
The Bearcats return home Thursday evening to face Newman at 7:30pm. Pregame on KXCV 90.5 and KRNW 88.9 begins at 7pm.