Bearcat Radio Network
Jan. 2, 2021Game | Basketball
Northwest 50, Pittsburg State 80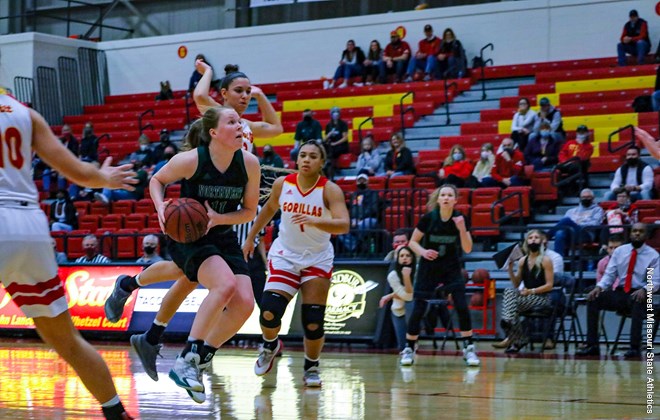 (Photo courtesy Ryan Milke, Northwest Athletics)
Northwest Missouri State women's basketball fell in the opening game of 2021 80-50 to Pittsburg State.
The Bearcats (3-3) were shooting at a high clip throughout, but couldn't keep up with the Gorilla attack.
Northwest was 14-24 (58-percent) from the field in the first half, but still trailed 47-34 to a red-hot Pitt team that hit 62-percent of its shots.
Kylie Coleman and Mallory McConkey finished with 12 points apiece to lead the Bearcats.
Jaelyn Haggard and Molly Hartnett each scored eight points in the loss.
Northwest is home for just the third time this season Thursday night for a matchup with Washburn. Game time is set for 5:30pm. Pregame on KXCV 90.5 and KRNW 88.9 begins at 5pm.