Bearcat Radio Network
Feb. 20, 2020Game | Basketball
Northwest 77, Missouri Southern 76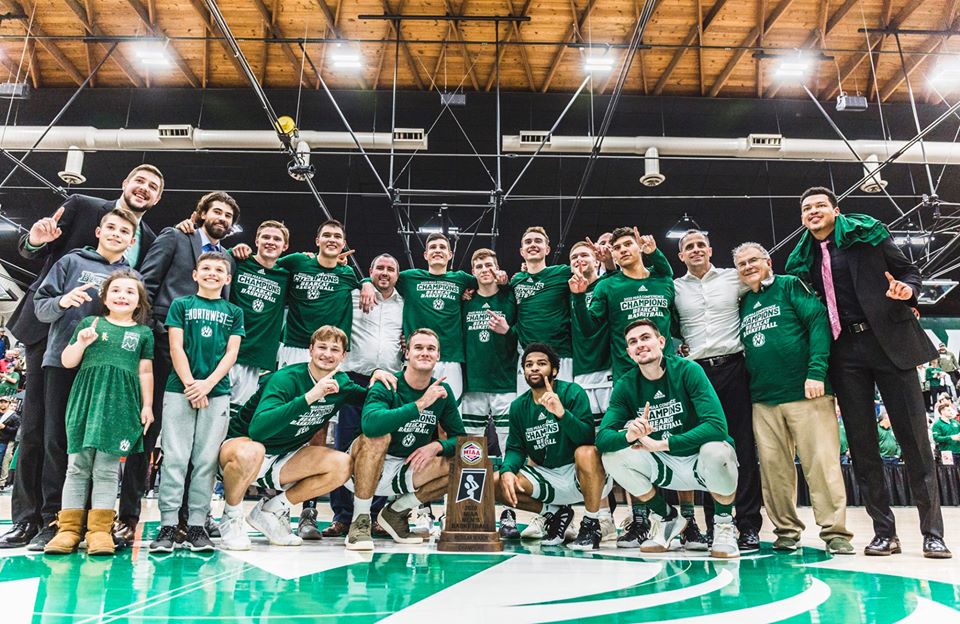 (Photo courtesy Gabi Brooks, Northwest Athletics)
Trevor Hudgins split a double-team and knocked down a jump shot as time expired to propel Northwest Missouri State to a 77-67 win over Missouri Southern and clinch the program's seventh straight MIAA regular season title.
Southern led by four points with less than a minute left when Hudgins hit a three-pointer to bring Northwest (25-1, 15-1 MIAA) within one.
The Lions' Braelon Walker got to the free throw line with a chance to extend the lead with 6.8 seconds left, but he missed the front end of a one-and-one. Ryan Hawkins snared the rebound and got the ball into Hudgins' hands. The sophomore from Manhattan, KS took it down the left sideline and was trapped by a pair of Missouri Southern defenders. Hudgins stepped through the double-team and put up an off-balance shot as the final seconds ticked off the clock. The Bearcats and fans stormed the court and dogpiled Hudgins after the shot passed through the net.
"(Head coach Ben McCollum) just said go and if you don't have anything call a time out. I didn't have anything at all, but I just saw an opening. It was God. It had to be God," Hudgins said after the win.
He and Hawkins each finished with 19 points apiece as Northwest beat Southern for the second time this season.
The Bearcats now face a quick turnaround with a home game Saturday against Pittsburg State. Game time is set for 3:30pm. Pregame on KXCV 90.5 and KRNW 88.9 beings at 3pm.