News Brief
March 18, 2022MARYVILLE, Mo.
McCollum's drive inspired by mother's example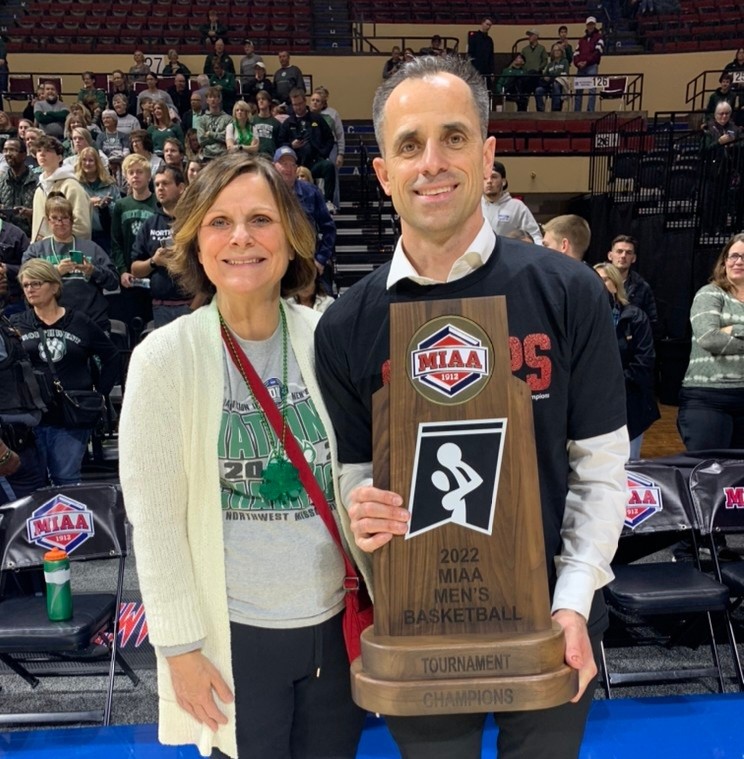 (Photo courtesy Mary Timko)
The winning edge that Ben McCollum brings to every Northwest Missouri State men's basketball game doesn't stray far from the fire he brought to the little league fields of Iowa 30 years ago.

"He was always competitive," Mary Timko, McCollum's mother, said. "Always wanting to just go out there and do the best. We have videos of him when he could barely walk hitting the ball off of a tee. I mean, he was in on everything."

McCollum has set himself apart from many of his colleagues around the country: a four-time national coach of the year, nine straight conference titles, three of the last four NCAA Division 2 National Championships.
But the work ethic to reach this point is nothing new.

Timko raised her sons with the same mentality she was brought up with: if you want it, go get it. McCollum saw that growing up. As a single mom, Timko raised him and his brother Joe while also building a successful career as an attorney and later a judge for more than three decades.

"(She) worked hard at that and worked hard at making sure that we had everything, making sure we were competitive and fought for the things we wanted," McCollum said. "That's what she is. She's just a fighter. That's what she put on me and made sure that I was a fighter as well, and competitive."

And Timko pushed McCollum, a multi-sport star at Storm Lake High School, to pursue his passion.

"'You can do this' in an encouraging way. You can have fun, you can do this. You have these talents from God that you need to use. Go for it."

From playing to coaching, McCollum's faced adversity and overcome it. He credits the mom he calls a fighter, who continues to persevere. It was when he was a student-athlete at Northwest that Timko rose to the challenge for her hardest battle.

"I think he probably saw it most when I had cancer, and you know I just went through it even though it was tough."

Timko was diagnosed with breast cancer 20 years ago. Through it all she stayed positive, and McCollum watched her live some of the principles she taught him as a teenager.

"She would never allow me to take the victim's role," McCollum said. "Regardless of if it was my fault or not, it was always 'what can you do to now fix this.' So make sure that you do not give your control over this situation away and making sure that you own those things. A lot of times that allows you to be empowered and maintain the control that you currently have."

That special bond between a mother and son has shaped one of the best coaches in college basketball today, and has Northwest on the brink of another milestone.

"That's kind of always been our family thing," Timko said. "If you want something, you can get it if you put the hard work in and you go after it."