All Things Northwest
July 10, 2018All Things Northwest
July 2018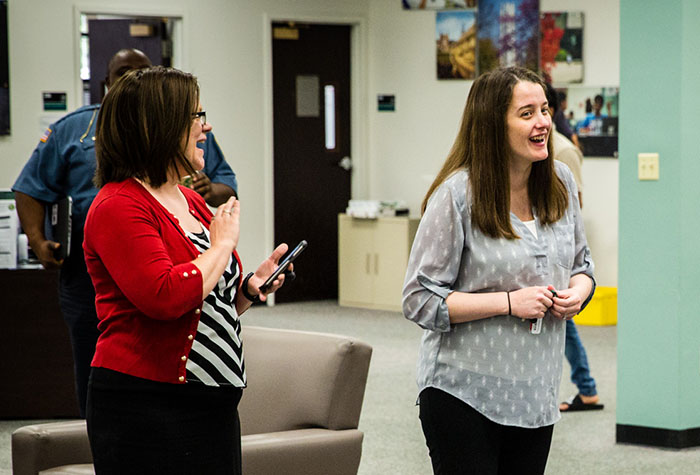 Jessica Vest, right, reacts Thursday morning as Northwest administrators announced that she is the recipient of the Missouri Student Employment Supervisor of the Year. Pictured with Vest for the announcement is Kathy Hart, Northwest's director of library services and operations. Vest joined Dr. Jasinski the second segment of All Things Northwest. (Photo by Todd Weddle/Northwest Missouri State University)
For the July episode of All Things Northwest, Northwest Missouri State University President Dr. John Jasinski was joined by a guest from Conception Abbey and an award-winning Northwest staff member.
Brother Thomas Sullivan, a monk of Conception Abbey since 1968, spoke with Dr. Jasinski in segment one about the Abbey's rare and ancient book collection.
Jessica Vest was honored as the Missouri Student Employment Supervisor of the Year in May. Vest and Paula McLain, Northwest's senior human resources generalist, joined Dr. Jasinski on segment two of the program to discuss the award and the university's student employment program.
Listen or download the full episode above.